Los posteadores más activos del mes

https://crowdestate.eu/
abrirá mañana un gran proyecto, 1.650.000 € es bastante dinero , se trata de mas de 30 apartamentos en el centro de RIGA.
Lo único que me frena de este proyecto es la "baja rentabilidad" solo un 7.19% por año, durante los 3 previstos.
Al menos el hecho de que te avisen a los usuarios registrados 24 horas antes de abrir el proyecto es un punto positivo, pues eso te permite un tiempo mínimo de reacción.
Copio y pego la info mas relevante.
Executive summary
The investment opportunity features a project located near the Riga city center, Latvia, on the Katolu street 9 an apartment building with 30 flats. Because the number of apartments is limited and building is already rented out, this development would be lucrative and safe investment.
SIA Ziedondarza dzivokli, a company founded specifically for the execution of the current Project (hereinafter: Sponsor) will raise 1 650 000 euros to refurbish and sell the apartments.
To ensure the successful execution of the Project, Crowdestate has partnered up with SIA Eiromaja, who has associated with previous owner of the property and has been an active developer in the neighborhood.
The expected duration of the Project is up to 37 months and the expected return on invested capital (IRR) is 7.19% per annum.
Project
The building located at Katolu street and near the Riga city center is actually a historical monument, which was recently renovated.
There are schools, kindergartens, parks, grocery stores and shopping centres in a walking distance. Not to mention an easy access to public transport.
Details
Name of the project: Katolu 9
Address: Katolu street 9 k-1, Riga
Cadastral number or property number: 01000390091001
Size of the land plot: 2112 m2
Planned completion date: sale starts on May 2020
Architect: Pēteris Birulis, "Studija AB" arhitektu birojs
Net sellable area and units: 1262.9 m2
Total number of apartments available: 30
Monthly rental income: 7,66 Eur/m2
Apartment sales price: 1500 Eur/m2
Sales period: May 2020 - April 2021
Expected IRR: 7,19 %
Expected cash on cash: 5,3 %
Investment term: up to 37 months
Payments: cash on cash payments during the rental period, principal and profits paid out proportionally to the sale of apartments.
Building
The architectural monument, which was recently renovated, is a 6-story building located at a Katolu street. It comprises 30 apartments in total which are currently rented out. The space range is between 20.9 and 67.7 square meters. The building has a small inner yard, closed staircase, lift, central heating and low utility payments.
The facade of the building from the side of Katolu Street was restored by preserving the architectural elements in its previous form, while the facade of the inner courtyard of the building was enriched with French-style balconies. All wooden joists were substituted with reinforced concrete.
Location
The property is situated in the southeast part of the city, on the right bank of Daugava River in Latgale Suburb. The area of Latgale Suburb is 50 km2 and the total number of inhabitants of the district is approximately 189 486 (2012).
Latgale Suburb is a historical neighbourhood, mainly built in the late 19th and early 20th century and described by wooden rental buildings. Architectural monument of Latgale Suburb is Academy of Sciences, built in 1958.
Apartments are conveniently located at Katolu street - just next to Klusais darzs garden. Less than 10 minutes' drive from the city centre, Old Town and 20 minutes from Riga International Airport. Just around the corner are multiple grocery stores, service providers, schools and kindergarten and within a 2 km radius four popular shopping centres: Galerija Centrs, Origo, Stockmann and Mols. There are two large city parks - Miera darzs and Klusais darzs in close vicinity. Not to mention, the biggest resort town in Baltic countries – Jurmala, is just 35-minute drive away.
During the last few years many buildings in the neighbourhood have been renovated and upgraded. Eiromaja, the developer of Katolu 9, has actively taken part into neighbourhood's development. There are other developments of Eiromaja in close vicinity - Katolu street 19, Katolu street 31, and Kraslavas street 14. Many buildings close to Kraslavas, Jekabpils and Katolu street are historical monuments which have been renovated keeping their architectural design and reconstructing interior premises according to the current technical regulations.
Another advantage of the property is its strategic location with an easy access by public transport. Stops of buses No 18; N7 and minibuses No 204; 216; as well as trolleybuses No 15; are all located within 300m distance from the property. Tram routes Nr.2; 3; 7; 9; 10 (at Katolu street) are within 500m.
Market
The rental market in 2016 was influenced by the increase in real estate tax for landlords, who have no one declared within the premises. This means that now there are additional expenses on the part of the landlord or tenant.
The highest rents for apartments are in the city centre, Old Town and other prestigious districts and new developments. Two-room upper level apartments are available for €600–€800 per month. A three-room apartment costs €700–€1,500 per month, four-five-room apartments for €1,500-€2,000. During the second half of the year there has been a great demand for unfurnished four to five room apartments. However the highest demand is for two room flats within the price range of €450–€500, including three room flats starting from €500–€700, as well as four-room apartments starting from €800- €1,000. There is a strong shortage of good flats within this price category.
The situation on the rental market at the beginning of the year 2017, in terms of supply, demand and price, can be regarded as stable, without considerable and discernible fluctuations. An increasing number of developers opt for construction of rental apartment buildings, although the current volume is not yet sufficient to make a significant difference to affect the balance of demand and supply, or prices on the rental market. It should be noted that the construction of the new Riga Stradins University hostel in Pārdaugava featuring 130 rooms considerably reduced the interest of Latvian students in renting apartments in Pārdaugava and the City Centre, while the activity of foreign students on the City Centre apartment rental market has retained the level of previous years.
The demand in Riga is for good quality renovated two and three room apartments, as well as for apartments in new development projects. One-room apartments in the city centre are also in quite a demand. Among non-residents the demand is still high for large apartments in the diplomatic area of Riga City centre, at the beginning of the year, demand for 4-5 bedroom apartments from Canadian nationals was especially strong. We may also observe an influx of IT industry guest workers from countries like Ukraine. This segment prefers more economy class apartments in new development projects in sleeping areas of the city.
On the apartment rental market, information is usually spread among friends, acquaintances and neighbours, making a deal on the amount of rental fee orally. Smaller one-room and two-room apartments are offered and demanded on the rental market in the City Centre and Ziemeļu District. A typical rental fee, without utility payments included, is 300-400 EUR per month.
Competition
Rentējas - Modern rental apartments in 3 locations (Alauksta 13, Artilerijas 35, Gertrudes 121). Gertrudes 121 location would be considered as very similar to Katolu 9.
1-3 room apartments with built-in furniture.
Communal laundry, video surveillance, additional fee for parking, Internet, cable TV.
Tenancy agreement terms: 1-3 years (with possibility to extend).
Currently there is one apartment available - 2 room apartment, 61.1 m2 for 650 euros/month.
Pebo Nami - Rental apartments located at 41 Dzirnavu and 33 Krisjana Valdemara streets.
These apartments are more conveniently located if compared to Katolu 9.
The building located at 33 K.Valdemara Street is a modern rental office and flat complex with the total area of 12,000 m2.
This Art Nouveau rental house is included in the list of state protected cultural monuments and is located in the heart of the lively capital.
Currently there are 2 large apartments available at Valdemara street - 6 room apartment, 180,77 m2 for 1627 euros/month and 7 room apartment, 170,44 m2 for 1449 euros/month.
Matīsa 38 - Renovated rental apartment building located at 38 Matisa Street. This location could be considered as similar to 9 Katolu.
Currently there are no active ads of rental apartments in this building.
Barona 109 - Renovated rental apartment building "Ēdenes dārzs" located at 109 Krisjana Barona Street. The 6-storey pre-war building has been renovated recently. This location could be considered more convenient than 9 Katolu as it takes just 10 minutes by tram to reach the Old Town.
Currently there are no active ads of rental apartments in this building. However, previously 1 room apartment in size of 30 m2 was rented out for 290 euros/month.
Location
Sponsor
SPV SIA Ziedondarza dzivokli was registered for purchase of this project. The protection of investor rights and the loan will be secured by first rank mortgage.
Asset management including rent collection, sale of apartments and other administrative activities  will be performed by Crowdestate Latvia team.
Property management will be provided by company SIA Eiromaja. Who is associated with previous  owner of the property and has actively participated in developing the neighborhood over the years.
SWOT
Strengths
Cash Flow project is located close to the city center.
Building is fully rented out.
There is a demand for compact and reasonably priced rental apartments.
2 parks in close vicinity.
Kindergartens and schools available in the neighborhood.
Great infrastructure - tram and bus routes within 5 minutes walking distance from the site.
Low risk investment with IRR 7,19 %.
No leverage.
Expected exit price when selling by units of 1500 EUR/m2.
Weaknesses
Location, although it is located close to the city center there are low income communities around.
Opportunities
Average sales price exceeding the target price in financial model resulting in higher profitability.
Appreciation is 2% - very conservative according to the market.
Increased demand for cash flow residential buildings due to more liberal rental law.
Threats
Apartments do not sell in the timeline forecasted.
The general development of real estate market is unpredictable.
Crowdestate rating
N/A
A1
A2  esta es la calificacion que le dan.
A3
A4
A5
B1
B2
B3
B4
B5
C1
C2
C3
C4
C5
Category Assesment Points
Capital senior to Crowdestate 0% 1
Capital equal or junior to Crowdestate 0-9% 5
Location Primary 1
Cash flow Occupied 1
Development phase Completed 1
Team track record 5 - 9 years 2
Personal guarantee No 0
Mortgage Yes/No -6
Total: A2 5
The above-mentioned rating expresses Crowdestate's subjective view on each investment opportunity's total risk level. Crowdestate Rating does not account for specific investor's risk tolerance and is not meant to serve as replacement for individual due diligence. Crowdestate Rating has no relations to ratings issued by international rating agencies nor to their rating methodologies.
Crowdestate Rating is an expression of investment opportunity's aggregated risk level, calculated as a sum of qualitative and quantitative evaluations of opportunitiy's different parameters. Amongst other criteria, Crowdestate Rating considers investment opportunity's capital structure, financial leverage, location, stage, cash flows, teams's track record, collaterals etc.
Finances
Funding process
The aim of this project is to raise 1.65 mil EUR funding from Crowdestate investors to acquire rental apartment building at Katolu street 9, Riga. The acquisition will be executed by SPV SIA Ziedondarza dzivokli.
It is planned to purchase and hold the rental apartments for approximately two years and parallelly refurbish and sell them out depending from demand and market situation.
Crowdestate will hold the ownership rights of the building and the loan will be collateralized with a first rank mortgage on real estate.
Distributions
Cash on cash payments in amount of 5.3% will be distributed starting from 2nd month of the project. Principal payment will be returned proportionally to the sale of apartments, not later than 26th to 37th month of the project.
Regular information
Over the course of the cash flow project, Crowdestate shall provide quarterly reviews on the process of the cash flow project, information about meeting the set deadlines and milestones.
Project cost
Estimated total project cost: EUR 1,818,504
Capital structure
100% Crowdestate investors
Summary
Time horizon: up to 37 months
Total investment: up to 1 650,000 EUR
Expected net return (IRR):
Negative scenario: 4.98 % p.a.
Base scenario: 7.19 % p.a.
Optimistic scenario: 9.07 % p.a.
Please review the attached financial estimates before submitting your investment order!
Example
Investment size: 1,000 EUR
Participation rate: 1,000 / 1,650,000 = 0.0606%
Total payouts:
Negative scenario: 1.859.683 EUR
Base scenario: 1,957,377 EUR
Optimistic scenario: 2,042,436 EUR
Expected payout to investor (interest and principal):
Negative scenario: 1,126.97 EUR
Base scenario: 1,186.17 EUR
Optimistic scenario: 1,237.72 EUR
Attachments
Statistics.pdf
Preview agreement
Q&A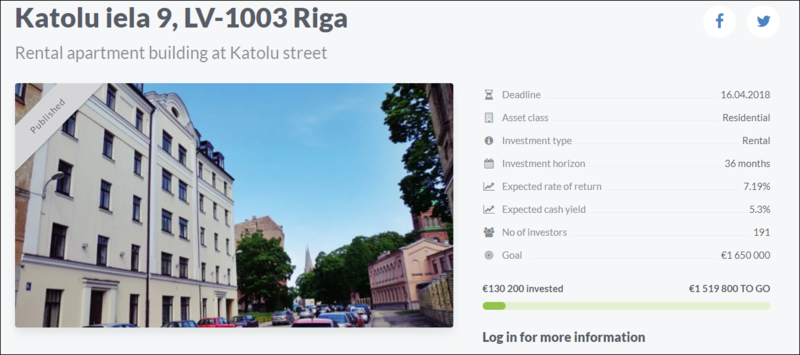 Primera piedra de toque, el proyecto se ha abierto hace unas 3 horas y llevan un 8% recaudado, son mas de 130.000 €.
Seguiré de cerca este proyecto de
https://crowdestate.eu/
para ver el fondo de inversores que tiene la plataforma.
Al final ha sido
cancelado
por falta de interés.
We are sorry to say, that our "Katolu iela 9, LV-1003 Riga" investment opportunity did not find enough interest amongst our members.

Over the course of 20 days 329 investors contributed 223900.00 EUR towards funding this opportunity, reaching 14% of the target investment amount.

Unfortunately, 86% amounting EUR 1426100.00 remained unfunded.

Due to the lack of investor interest we have cancelled this investment opportunity.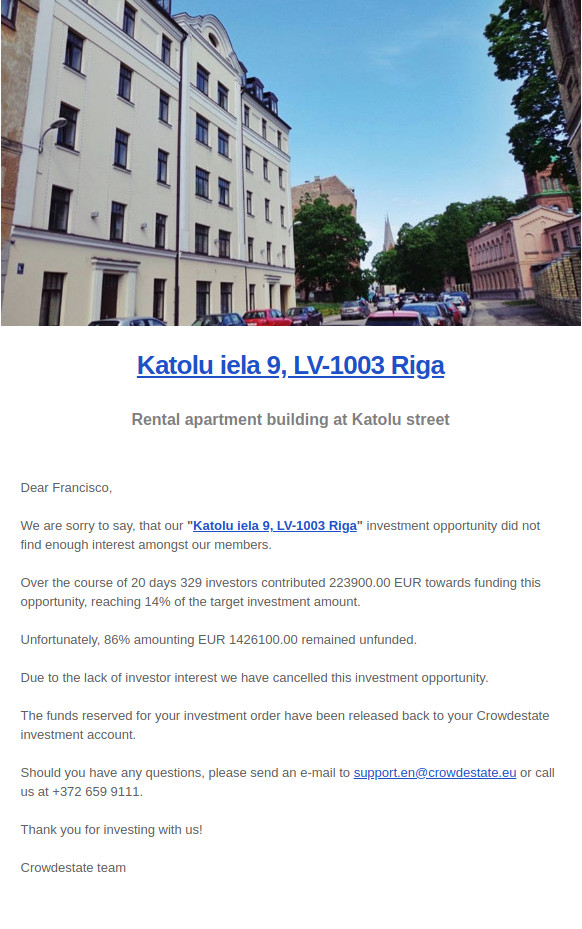 Esto no le pasa a HOUSERS!!!!!Qué cosas...
Pues ya saben, si quieren dinero tendrán que mejorar la rentabilidad ofrecida....

Ragagu




Mensajes

: 1297


Puntos

: 1420


Reputación

: 103


Fecha de inscripción

: 22/11/2016



Ragagu escribió:Esto no le pasa a HOUSERS!!!!!Qué cosas...
Que yo recuerde en Housers ha pasado una vez en las que yo he participado. Pero algunas se hacen eternas hasta que se financian, lo que aquí no pasa.
Pues si,

yo estoy mirando algo en el marketplace a ver si vale la pena, pero veo que desaparecen rápido los que así parecen y los que no es por que son de mucho importe y no se pueden comprar parcialmente.

Sería interesante que en el mercado secundario estuviesen las dos patas de la horquilla y no solo la de venta. Es decir, que pudieses poner tu oferta tipo, compraría X participaciones de tal proyecto a esta TIR. Esto daría mucha más liquidez al mercado, lo cual creo que atraería más clientes.


Indigno




Mensajes

: 25


Puntos

: 39


Reputación

: 4


Fecha de inscripción

: 26/03/2018



Indigno escribió:Sería interesante que en el mercado secundario estuviesen las dos patas de la horquilla y no solo la de venta. Es decir, que pudieses poner tu oferta tipo, compraría X participaciones de tal proyecto a esta TIR. Esto daría mucha más liquidez al mercado, lo cual creo que atraería más clientes.

que me lees el pensamiento...



Temas similares
---
Permisos de este foro:
No puedes
responder a temas en este foro.