Los posteadores más activos del mes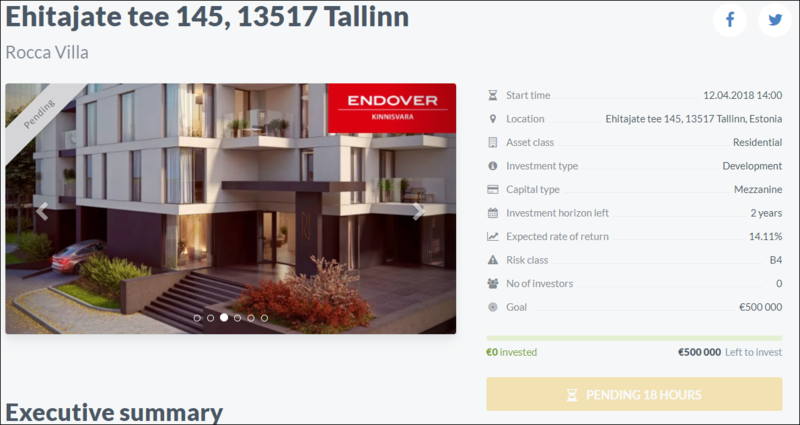 Parece que
https://crowdestate.eu/
ha puesto la directa y saca proyectos cada dos o tres días,
Por lo que cuentan este promotor ya ha tenido 9 proyectos anteriores , de los cuales 6 han sido ya abonados a los inversores y 3 siguen los plazos previstos, esto ultimo como siempre no garantiza nada , pero la seriedad siempre es una buena noticia.
El valor de lo que quieren construir es superior a los 5 Millones por lo que un 10% del préstamo  no parece mucho.
Lo único que no me gusta es el plazo 24 meses, aunque pueden amortizarlo antes si todo va bien en las ventas y el 13.5% que esta un pelin por debajo de mis pretensiones del 15%
Me lo pienso de aqui a  mañana, para modificar el AI.
Os dejo los detalles de la web.
Executive summary
Rocca Villa is a new residential development project, located in Haabersti district of Tallinn, executed by the largest Estonian residential real estate developer Endover Real Estate. Rocca Villa is the first of 5 new residential and mixed-use buildings forming a new Rocca Towers complex.
Endover Real Estate is a well-known Sponsor as Crowdestate's investors have previously crowdfunded 9 different development projects by Endover Real Estate - 6 of them have already been successfully exited and 3 are in their planned development stage. Endover Real Estate has a long, proven track record as a professional real estate developer and a highly successful sales and marketing organization.
Crowdestate's investors have an opportunity to crowdfund up to EUR 500,000 and participate in the development of Rocca Villa residential building.
The investment term is up to 24 months, but depending on the actual sales speed of developed apartments, Endover Real Estate is estimating that the crowdfunded capital will be repaid in full within 16 - 20 months.
This investment earns a 13,5% annual interest, payable quarterly from the 6th month. The IRR of this investment is 14,11%.
Project
Address: Ehitajate tee 145, 13517 Tallinn, Estonia
Cadastral code: 78406:603:0300
Distance from Tallinn city center: 7 km
The building consists of 42 units, including 32 apartments and 10 commercial premises (including built-to-rent apartments). The number of units may change in the course of the design process. According to Sponsor, preliminary sales of apartments started in February 2018 and as of 29/03/2018, 7 apartments have already been sold.
Net sellable area: approx. 2,948 m2 (may change in course of the design process)
Gross area (incl. underground areas): 4,404 m2 (may change in course of the design process)
Number of floors: 4Parking: underground parking
Building permit: application in process, expected to be issued in Q2 2018
Expected end of construction: Q1 2019
General contractor: Metropoli Ehitus OÜ
Co-financier: an Estonian credit institution, credit agreement has been signed
Location
Rocca Villa development is located at Ehitajate tee 145, Tallinn, in the center of Haabersti district, the local hub of commerce, services, and transportation. The building will be located at the city side edge of Haabersti, a district which populates more than 45,000 inhabitants.
Rocca Villa will be built into the middle of the residential area with fully developed infrastructure, making every-day logistics easy to handle. We believe that excellent logistical position would be one of the most distinctive arguments for this development project. The Haabersti viaduct, which will solve a lot of traffic-related problems in the area and which will be completed by October 2018, would add even more value to the location.
There are several supermarkets and shopping centres in the walking distance (Rocca al Mare shopping centre, Maxima XXX supermarket, Haabersti Hyper Rimi supermarket, Kadaka Selver supermarket, Kakumäe Selver supermarket etc) as well as several popular cafés and restaurants (Rucola, Cafe Lyon, Umami, Al Mare Grill, Talleke ja Pullike) and sports venues (Arctic Sport Club, Arigato, MyFitness, Škoda Jäähall).
There are three public and one private school (incl. one Russian speaking public school) in the area. Five public nursery schools are in the range of 1,5 km. Haabersti Tervisekeskus, a contemporary medical center, and Lääne-Tallinna Keskhaigla Hooldusravikliinik, a public nursing care center are located next door.
The future residents will have easy access to Kakumäe and Stroomi public beaches and also to Nõmme-Harku park via light traffic roads. Tallinn Zoo, observable from upper floors of Rocca Villa, is located just across the road.
The Haabersti intersection, to be completed by October 2018, will ease the current traffic situation and make the connection to Tallinn city center faster, thereby adding value to Rocca Villa development. The fully developed public transportation system in the district enables to use public transport to commute to the city center as well as other parts of Tallinn.
Competition
Location-based competition
Haabersti is one of Tallinn's fast-developing sleeping districts with several smaller and larger residential development projects. As of April 2018, there are about 400 new apartments for sale, and 90% of those apartments are the units in the developments to be completed in 2018.
Rocca Villa enjoys being located in the absolute logistical and logical center of Haabersti district and there are no competing residential developments in the region.
Considering Haabersti's distance from Tallinn City Center, there are 3 similarly positioned residential developments with a total of 395 apartments, of which 70% have already been sold.
Price-based competition
The planned average price of Rocca Villa apartments is EUR 1,990 per square meter, being just EUR 20 higher from Haabersti district's average price of new residential developments (EUR 1,970 per square meter). Compared to the average price of Tallinn's' new apartments (EUR 2,500 per square meter), Rocca Villa offers a full set of nearby benefits at 20% lower price.
The average square meter price of new developments in Haabersti district is influenced by several large, logistically weaker developments, that have been priced lower to attract price-conscious buyers. We believe that Hõbemetsa development project seems to be offering the same level of living quality while being logistically in a weaker position.
Similar projects
As Rocca Villa has an excellent location concerning logistics and access to services, the environment the development project delivers could be compared to conditions in Tallinn city center while being priced at 25-30% lower level. Our approach to competition analysis below is location-based, highlighting apartment developments with similar distance to Tallinn city center as Rocca Villa, excluding double- and row-house segment.
Jalami 1,  Astangu 18 and Astangu 20
Aurora Nova is a sequel to Aurora Park, a popular development project with large construction volume. While the construction permit for Aurora Nova has been recently issued, the construction works have not been started yet.
Aurora Nova consists of one eight-story building and two five-story buildings with 170 units in total. The project is positioned to please a large audience, offering a wide range of unit sizes, from 49 m2 to 140 m2. Average price (EUR/m2) depends on size and position of the unit and within a range of 1,700 - 2,000 EUR/m2.
Compared to Rocca Villa, Aurora Nova could be described as less favorably located, since the connection to the city center and access to services is not as convenient.
Aurora Nova development will be completed in 2019 / 2020. As of the beginning of April 2018, there are 30% units sold/booked in Astangu 18 building, 13% in Jalami 1 building and 16% in Astangu 20 building.
Pöörise 12
Pöörise development project is executed by TTP and consists of ten highrises, two of them already inhabited. Four houses are on sale presently.
Pöörise 18 (completed in winter 2017) and Pöörise 16 (completed in summer 2018) are mostly sold with only a few apartments left unsold. Pöörise 14 will be completed by winter 2018 and has 70% of apartments sold. Pöörise 12 is planned to be completed by spring 2019 and has 5% of apartments sold (as of April 5th, 2018). Each of the buildings has 14 floors with a total of 80 apartments.
The development is designed to address the demand for smaller units, ranging from 45 m2 to 64 m2 (EUR 88,000 - EUR 125,000). The average prices in this development range from EUR 1,700 to 1,900 EUR/m2.
Of all current Pöörise buildings, Pöörise 12 has most relevance to Rocca Villa and it seems to be priced slightly higher than previous Pöörise buildings, ranging from 1,900 to 2,000 EUR/m2.
Rehe 9 and Rehe 11
Hõbemetsa is a large-scale development project by Kaamos Kinnisvara, consisting of 16 apartment buildings and being at about 50% completed. There are 2 buildings with 62 apartments currently on sale; 30% of those apartments are sold as of April 5th, 2018. Those buildings will be completed by January 2019.
Hõbemetsa development offers a somewhat wider range of apartment sizes and is priced slightly higher; apartments are ranging from 50 m2 to 100 m2, units are priced from EUR 105,000 to EUR 199,000 with average square meter price of EUR 2,100.
Locationwise, Hõbemetsa development tends to be more peripheral but as an environment, it offers more private and natural conditions.
Kadaka tee 143
Kadaka tee 143 is the third building of the development project, located between established residential districts Mustamäe and Õismäe. The building has 8 floors and 42 apartments. The ground floor is reserved exclusively for commercial premises. Apartment sizes are in the range of 50 m2 to 80 m2.
The building seems to have a prominent share of apartments in 75 m2 - 80 m2 size range in its unit structure. Unit prices range from EUR 84,000 to EUR 155,000, the average square meter price is EUR 1,800.
The building will be completed by the end of 2018 and it has 75% of units sold as of April 5th, 2018.
Vanakuu 11 and Noorkuu 6
Pärnaõue Trend and Pärnaõue Premium are part of larger Pärnaõue development, located between Haabersti and Kakumäe districts and being developed by Bonava. The development is in its closing phase, the final 2 buildings are currently on sale. Both of the buildings have 4 floors, consisting of 38 apartments and will be complete by May 2018.
Vanakuu 11 building has 55% of its' units sold, Noorkuu 6 building sales rate is 30%.
Both products (Trend and Premium) are designed to supply with units with average sizes (45 m2 - 80 m2) with the slightly higher price range (EUR 100,000 - EUR 140,000), the average square meter price is around EUR 2,000.
Moonalao 7 and Moonalao 11
It would be relevant to highlight Natura Park development by Astlanda as well since Natura Park is large scale housing project on the outer edge of Haabersti district. The project has its 2 buildings currently on sale, both of the buildings have 4 floors, consisting of 30 and 34 units. The buildings will be completed by summer 2018 and 55% of units are sold as of April 5th, 2018. Natura Park has differentiated offering of smaller units, the average square meter price is EUR 2,000.
Building
Rocca Villa is characterized by large window areas, accompanied by glass balcony and terrace railings. This modern apartment building will include a fancy furnished lobby, large elevator, and underground parking. There are 2 - 4 room apartments, the design includes modern housekeeping rooms as well as walk-in wardrobes.
Market overview
The demand for residential real estate has been trending upwards over last 6 years, reflected by the growing number of transactions and the value of average transaction value as well.
The dynamics of Estonian economy explains also the real estate market trends. Low interest rates promote lending and also supports consumer confidence. The real growth of GDP for 2018 is expected to remain around the level of 2017 (real growth of GDP in 2017 was 4.9%). That would likely to carry on the positive trend of real wages, which households will translate into consumption (growth in the retail sector), savings (growth in personal savings, investments) or real estate procurement. Growth in consumer confidence and wealth is a foundation for growth in property development. Overall dynamics of real estate prices indicates that due to growing supply, the buyers have the benefits of the wider selection of available development projects and more stable real estate prices.
In 2017, sales of new development projects made 25% of all apartment transactions in Tallinn and Harju County. The stock of unsold apartments in Tallinn is equal to sales volume for 10-12 months, which can be considered as adequate supply, since:
The population of Tallinn continues to grow (in 2017 Tallinn gained approx. 5,000 people);
Average gross salary grew 6,5% in 2017. Due tax reform of 2018, the growth of gross salary may slow down but rise in tax-free income will likely result in a growth of net salary;
Historically high employment rate. In Q4 2017, the unemployment rate in Estonia reached a historically low point at 5.8%.
Growth in real estate development sales prices has made new housing unavailable for many customers. Wage growth has not been able to keep up with real estate prices and banks have obtained a more conservative approach to housing loans. The high price level in Tallinn has resulted in growing demand in suburbs and adjoining regions. Most issues with high volume suburbian developments are about lack of infrastructure (services, shopping facilities) and connections to the city center. Regarding demand in suburban districts with existing infrastructure, buyers have mostly to rely on aftermarket as there is very limited supply in such locations.
In 2018, the real estate market will mostly be shaped by the increase in construction and land price which will be transmitted into higher apartments prices. This has already resulted in price increase in new housing developments in Tallinn by 10-15%. As Tallinn continues to gain in population, the real estate market will stay active for predictable future. More workforce will relocate towards Tallinn which results in growing demand in the residential sector in Tallinn and Harju County, also boosting unit prices. Development projects have moved to suburban districts (such as Astangu, Tiskre, outward edge of Lasnamäe, Jõelähtme municipality, Jüri borough, Peetri borough etc) to be able to provide lower price levels.
Location
Sponsor
Endover Real Estate is a real estate development and investment company operating both in Estonia and abroad. Endover is one of the largest and most successful real estate developers in Estonia.
Endover's key operations are focused on managing real estate developments, construction activities, investments as well as selling and marketing real estate projects. Endover employs more than 80 highly skilled professionals.
Endover's development projects are located in highly valued areas, close to the business, entertainment and cultural life, therefore creating valuable opportunities for both as living space as well as investments.
Crowdestate's investors have crowdfunded 9 Endover's development projects over the past 3 years - 6 of them have already been successfully exited:
Villa Soans at Raua 25, Tallinn;
Toompuiestee 13 residences;
Heina 5 residential buildings;
Unique circular Lõokese 5 residential building;
Aurora Park residential development project
Vega residential development project.
Crowdestate's investors crowdfunded another 3 Endover's residential development projects in 2016 - 2017, which are still in their planned development phases:
Tööstuse 47D exclusive lofts in Kalamaja district (crowdfunded EUR 1,250,000);
Tööstuse 47B Lofts in Kalamaja district (crowdfunded EUR 1,000,000). The construction has been completed and all of the apartments have been sold. The planned exit is scheduled for May 2018;
R . Tobiase 3 in Kadriorg district - an exclusive apartment building is in the construction phase (crowdfunded EUR 413,000).
SWOT
Strengths
Experienced developer with an excellent track record;
Short investment period (up to 24 months) and quarterly interest payments from 6th month;
Fixed 13.5% annual interest rate, quarterly interest payments boost the IRR to 14.11%;
Superb location in the heart of the established living district, all necessary services are within walking distance;
Sufficient supply of nearby schools and kindergartens;
Good connections to Tallinn city center by car and by public transport, a new Haabersti viaduct shortening travel times;
Construction financing contract with a bank has been already signed;
Strong pre-sales, 17% of apartments are sold just within less than 2 months;
Modern and distinctive architecture;
Limited sales risks due to the small scale of the development;
A continuous increase of Haabersti district's inhabitants. More than 2500 inhabitants have moved to Haabersti within last 5 years according to Rahvastikuregister, boosting the districts' population over 45 000, providing a good basis for demand.
Weaknesses
Price-sensitive buyers might prefer to buy apartments in Haabersti district's cheaper, less-favorably located residential developments;
A new Haabersti viaduct might be quite noisy.
Opportunities
Building's modern and distinctive architecture and the high-quality building materials may result in faster than planned sales speed;
The small number of apartments in the development might be sold faster than planned.
Threats
The large region supply of new apartments might result in needed discounts in pricing or prolongation of sales period;
The development of real estate market is unpredictable.
Crowdestate rating
N/A
A1
A2
A3
A4
A5
B1
B2
B3
B4
B5
C1
C2
C3
C4
C5
Category Assesment Points
Capital senior to Crowdestate 50-59% 3
Capital equal or junior to Crowdestate 30-39% 2
Location Secondary 2
Cash flow Vacant 5
Development phase Ground-up 5
Team track record 10+ years 1
Personal guarantee No 0
Mortgage No 0
Total: B4 18
The above-mentioned rating expresses Crowdestate's subjective view on each investment opportunity's total risk level. Crowdestate Rating does not account for specific investor's risk tolerance and is not meant to serve as replacement for individual due diligence. Crowdestate Rating has no relations to ratings issued by international rating agencies nor to their rating methodologies.
Crowdestate Rating is an expression of investment opportunity's aggregated risk level, calculated as a sum of qualitative and quantitative evaluations of opportunitiy's different parameters. Amongst other criteria, Crowdestate Rating considers investment opportunity's capital structure, financial leverage, location, stage, cash flows, teams's track record, collaterals etc.
Finances
Funding process
The goal of the current project is to finance Rocca T4 OÜ's activities related to the development of Ehitajate tee 145 residential property.
Crowdestate ET145 OÜ, funded by Crowdestate investors, acquires a 1% ownership in Rocca T4 OÜ and signs a funding agreement with the aforementioned company in the amount of up to 500,000 euros with an annual fixed interest rate of 13.50% for the period of up to 24 months.
The first interest payment will be made in 6 months, the consecutive interest payments will be made on quarterly basis.
The main shareholder of Rocca T4, Mr. Endo Tõnuver, will commit to repurchasing 1% of Rocca T4 OÜ shares from Crowdestate ET145 OÜ.
Rocca T4 OÜ has an option for the early repayment of the principal amount.
After the successful sale of the apartments, Rocca T4 OÜ will redeem the senior bank loan and after that, return the crowdfunded amount and accrued interest to Crowdestate's investors. If the project is refinanced during its development phase or its sales speed exceeds the estimates of the business plan, Crowdestate will ensure the debt-free net value of unsold apartments to be at least EUR 833,000 euros (max LTV does not exceed 60%). LTV exceeding 60% will trigger the Sponsor's obligation for partial early repayment to restore the LTV ratio.
Project cost
Project cost (including VAT) is EUR 5,366,850
Capital structure
Developer's equity: EUR 550,000
Crowdestate's investors: EUR 500,000
Senior bank loan: EUR 2,800,000
Prepayments and VAT returns: EUR 1,134,275
Fixed net return
Negative scenario: 14,11% per annum
Base scenario: 14,11% per annum
Optimistic scenario: 14,11% per annum
Payments
Rocca T4 OÜ will make the first interest payment to Crowdestate ET145 OÜ in 6 months from the conclusion of the agreement, later interest payments will be made on a quarterly basis.
Loan principal shall be repaid either by the maturity of the loan or in case the collateral value (debt free value of apartments) is less than Crowdestate loan principal plus accrued interest, multiplied by 1.67 (LTV equals to 60%).
Summary
Investment time horizon: up to 24 months
Total investment: up to 500,000 EUR
Annual fixed interest: 13.5%,
The first repayment in 6 months, thereafter quarterly afterward;
Investment IRR: 14,11% p.a.
Example
Investment size: EUR 1,000
Expected payout (principal and interest) to investors: EUR 1,270.00:
of which EUR 67.50 in 6 months;
of which EUR 33.75 at the end of each next 5 quarters (EUR 168.75 in total);
of which 1,033.75 EUR at end of the investment period.
Risk and return
Please review the attached documentation before submitting your investment order!
Regular information
Over the course of the development project, Crowdestate shall provide regular reviews of the process of the development project, information about meeting the set deadlines and milestones.
Attachments
Ehitajate tee 145 - finantsmudel [EE].pdf
Ehitajate tee 145 - financial model [EN].pdf
Ehitajate tee 145 - финансовая модель [RU].pdf
Preview agreement


Temas similares
---
Permisos de este foro:
No puedes
responder a temas en este foro.